Post by kevb on Oct 5, 2015 20:41:42 GMT
Sorry if this isn't as entertaining as others but I'll try and get a few memories down before my ageing brain wipes it forever. I may have to do this over a few posts, busy life and all that.
Well due to my old mate not being able to get time off work at the same time I was resigned to a solo trip. But there were a few things I had in mind that might be easier if I wasn't putting someone else out so off I went...
The Journey Out
If I want to go from my local airport (about 40 mins by bus) ,EMA, I'm obliged to use Thomas Cooke, no one else goes to Skiathos from there. They quote daft prices for flight only so a package is usually better value. I end up getting a slightly earlier bus than planned and arrive at airport at 9:30. It is oddly quiet for a holiday weekend (Aug 28th) and by some miracle I'm checked in, through security and browsing in WH Smith on the departures side by 9:45! The flight's scheduled for 12:05, the only flight all week now that TC have dropped the 09:05 flight. So I decide to have breakfast upstairs and watch a few planes in and out. It doesn't seem long that the call is up for the gate being opened yet after that there seems a delay before we start boarding. It's going to be tight but we are all on in time for our slot. Then the ominous news that Skiathos airport doesn't have an available slot and we could be sat on the tarmac at EMA for an hour and forty minutes. Previous flights have always been on time so I'm niggled but not surprised, there have been enough tripadvisor reports of problems at JSI this year. Eventually good news comes through that a slot has opened up (20 mins into a complimentary feature film I wanted to see, which is immediately switched off never to return) so we set off about 45 min late. We make up time en route and arrive about 25 min late. Could have been worse. Disappointed to see the new apron at the airport still not in use, this is part of the reason for delays, not enough space to park aircraft being turned round.
Hello Skiathos! (again).
OK I've only been twice before, a mere novice. However I know what I'm doing and how short a walk it is to the harbour for a bus. Airport transfers are included but to be on safe side I ask rep if we are going to do lots of town drop offs as if we are I can make my own way there. However TC are on the ball and it transpires I'm the first drop off, in Troulos. Also four others (2 couples) from same flight are staying at same apts as me, it's like taking a trip back in time when everyone on the plane ended up at the same hotel on a package. So we are off the bus in Troulos by early evening. The rep seems to have got the wrong end of the stick when I told him I'd 'been before' as he turfs us all off in Troulos and tells the others 'follow that gentleman he knows where he's going' and the bus departs. This puts me on the spot, I've always stayed in Koukounaries before. Fortunately I'd done a bit of homework and decisively lead the way down a track past a field of goats and chickens and straight into the Agelika pool bar wich acts as reception for the apts we're all booked into - result.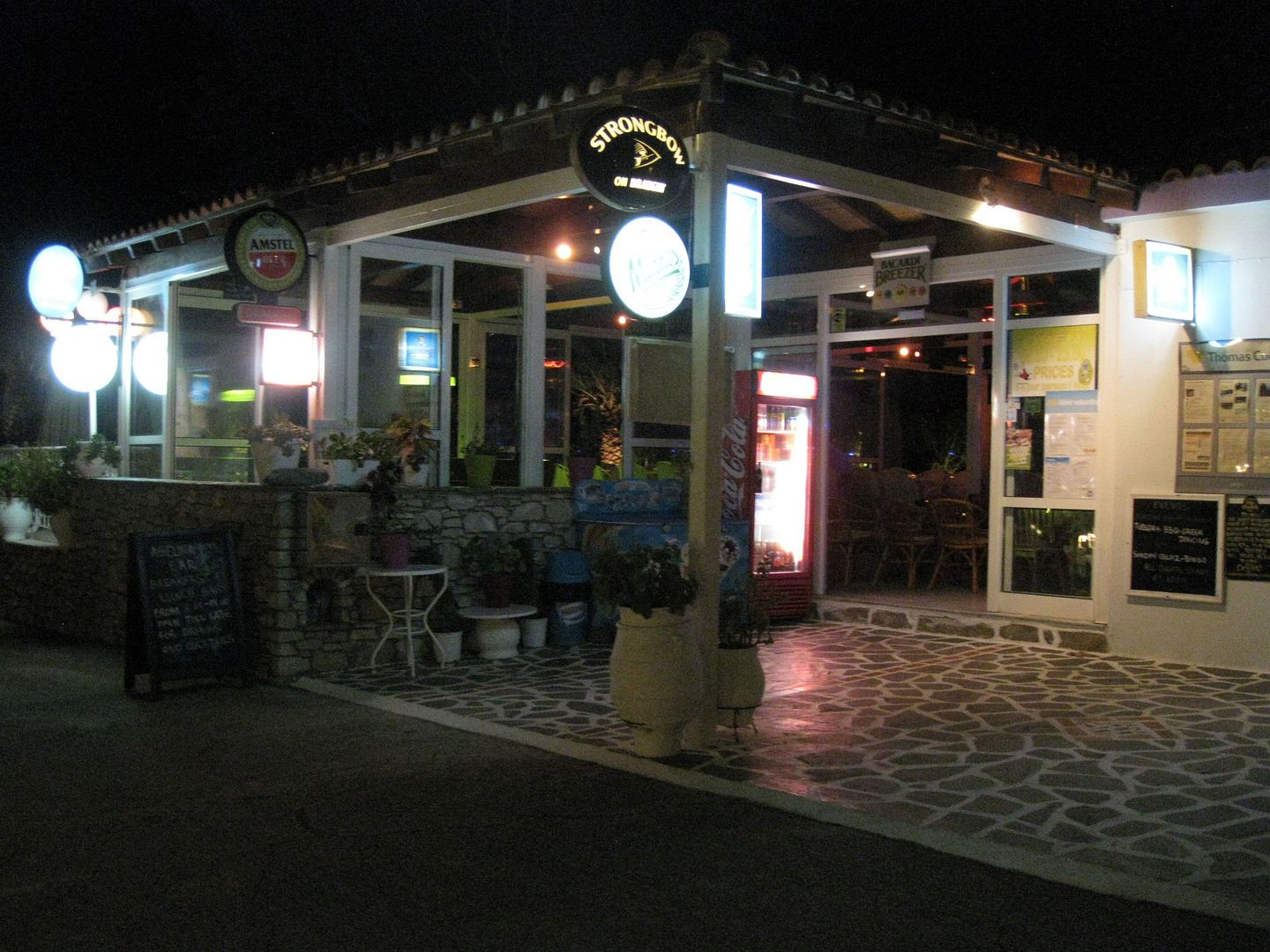 Agelika reception


We all sit round for a chat while the luggage catches up with us and then everyone makes their ways to own respective rooms. Time to unpack, change and make it up to Ratatoullie for some grub. Never eaten here before but it gets good reviews and doesn't disappoint though I don't go overboard, just feta followed by stuffed tomato & pepper. I watch a large bat making circles around the street light near the restaurant, the light is bringing him his evening meal in too. I pay up and then on a whim, since I'm on the right side of the main road, I catch the bus back to Kouk just to say hello to the couple who run the Agustera bar as I've had many an evening in there before. A large group come in ordering rounds of over €50 per round which naturally keeps Dino busy so I call it a night after catching the latter stages of a dull football match. Feel pretty washed out so in bed by midnight. I remember my earplugs as we are surrounded by fields of roosters, guard dogs of smallholdings, goats, sheep and a couple of donkeys.
Saturday
It actually doesn't get light all that early at this time of year and with a dark curtain I get a reasonable nights sleep. I can get my first proper look out at my view. It is rather dominated by the five a side football pitch opposite but to either side of that and behind it are smallholdings. Not only do they remember it when 'all this was just fields', it still is. Well I live 15 mins walk from a large nature reserve so a bit of wildlife doesn't bother me, though I wish the donkey with the bad throat would keep it down just a bit. I've decided that day 1 of a holiday is best spent doing the little chores of getting some groceries in and cringing at the price of convenience walking 25yds to a 'supermarket' rather than somewhere like carrefour in town but hey ho, lifes too short. Still, over six euros for a small pack of special K type cereal? I get in the essentials, including bottles of Mythos. Bizarrely though the items are very varied in price and there are plenty of them the total comes to exactly 20 euros, not a cent more or less. Even the girl at the till looks twice at me as if to say 'how did you manage that?' The rest of the day is spent chilling out by the pool, striking up occasional conversations with fellow guests who are a very mixed bunch but OK on the whole. The pool bar prices aren't too bad at all, the boss man Costas seems amenable enough and his2 minnions are civil. Suitably irradiated in afternoon, showered and dressed by 8pm. Decide to eat in Town so off on the bus and eventually find 1901 which I've heard good things about. Too busy for an outside table but its in a narrow bustling street and I'm as happy in the quieter interior. Opt for just a main course (shrimp with mushrooms) and a large glass of house red, hits the spot very nicely. This is where it gets a bit hazy. I head back to where I can find live music (I've been in pub bands over the years in the UK so I like to check out live acts on holiday) but its slightly early for them and I pop into the Admiral Benbow to almost get service with a sneer from the owner. I know they want to sell up but a bit more bonhomie wouldn't go amiss, I could have been a potential buyer for all they know. I have one then off down to the Totem to listen to a couple of guys performing as 'Joker'. It gets very busy and then a bunch of Geordies come in and we start chatting. By the time I leave I seem to have bought not one but two copies of their CD (Joker, not the Geordies) and realising it is close to 2am I feel I may have missed the last bus by a whisker. I finally pour myself out of a taxi in Troulos at 02:30 having spent a king's ransom on ouzo and lemonades. The roosters are limbering up by the time I hit the sack but I'm almost asleep before my head touches the pillow.