Post by kevb on Oct 6, 2015 15:46:30 GMT
Sunday
I manage about 5 hours intermittent sleep, despite the earplugs the combination of cockerels, dogs and the donkey with laryngitis has done for me. The plus side is that I'm actually up early enough that my hangover hasn't caught up with me, it's in a different time zone entirely. 'I bet the guys from the Joker band aren't up yet' I muse to myself over a brief bowl of outrageously overpriced cereal. I've decided it will be a walking day and it's better to get off before the temperature creeps up. I haven't really planned a route but have thought how long would it take to get to Asselinos beach from the Troulos Y junction?
I'd remembered Asselinos from a previous round the island boat trip as we were unloaded there for lunch iirc. The path on the map looks straight, the contours don't suggest anything too hilly and thankfully things turns out to be the case and before I know it I'm there, 50 minutes after setting off. I arrive on the stroke of 10am and find the beach shack isn't even open yet. After half an hour or so of reading a magazine there's some sign off life in the big hut used for all the hordes of boat trippers so I pop in there and pick up a frappe, just what I need to perk me up after last night. Back to the magazine for an hour and watch the early beach visitors turn up in various vehicals, I doubt any of them have walked from Troulos. Now a look at the map and I realise the road I'm heading for to work my way inland and eastward is actually only accessible by climbing up the rocks at the far end of the beach, it's about 100ft or so 'up there'. So off I scramble, its steep in places but from the goat droppings not entirely impossible. And then there's a yellow hiking marker so I must be in the right place.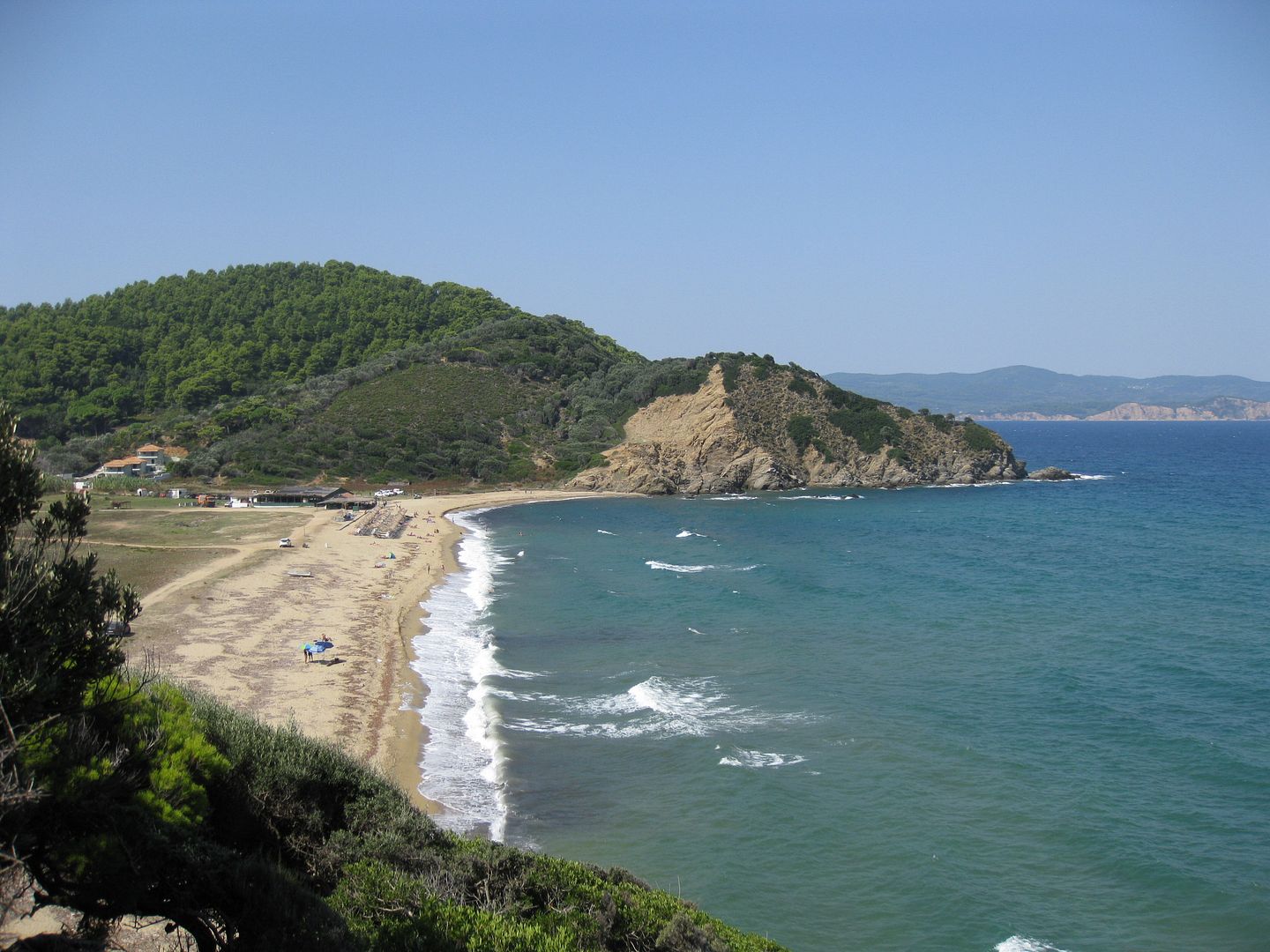 Looking back down Asselinos beach from the cliff

I appear from nowhere onto the road from the cliff face, bemusing passing tourists on their quad bike. I want to make this a bit more 'circular' and not get pushed back to the road I walked to Asselinos on. So I need to head East, at first coming across a small monastery but it's barely lunchtime so there are few visitors, I have a brief mooch round and admire the painted vaulted ceiling inside, leave a suitable donation in the box and get the thanks of the obligatory little old lady in black that seem to come with these places as part of the package.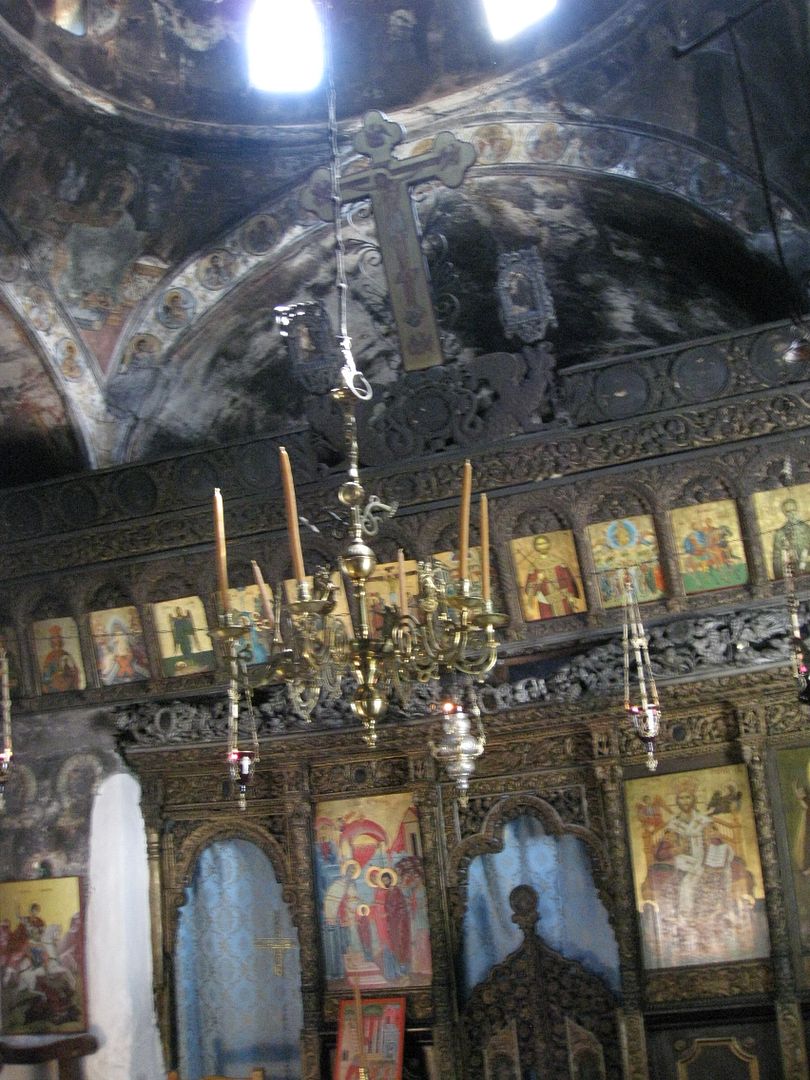 Monastery interior

Time I was moving on. It seems all roads lead to either the dog shelter or the municipal dump.
Actually the road that the dump lies on wouldn't be a bad route back. Unfortunately it is completely closed off to all traffic and the gates are guarded by a very vocal hound the size of a shetland pony. I'm not going there. So I'm forced to backtrack and go north again and even further East and my apparently decent road map (not the freebie from the airport) seems to be at odds with what I'm seeing in front of me. I guess water channels off the the hills maybe erased some bits? I try and cut a few corners, sometimes going down a track that narrows until the goats have even given up on it and I'm thrashing my way through brush in an almost Attenborough-esque fashion. But eventually I come back out onto a 'main road' (ie no bushes growing in the middle of it) and at least I can now see the southern coastline and get a bearing on where I am. I work my way downhill through smallholdings and try to avoid unruly dogs chained to caravans waiting for the unexpecting hiker. Eventually reach the big main road at bus stop 16 and then make my way back to 18 where I started from. Its mid afternoon by now so all I want to do is get back and dip in the pool, late lunch and spend the rest of the day on a sunbed.
Don't want to go far in the evening so try Salt n Pepper on spec but, as I suspected, they are booked and on inspection they don't have anything on the menu that I'm in the mood for. Fatigue send me to Zorba's over the road. Never eaten here either and though the main course (beef stifado) is OK the accompanying bread has clearly been sitting around for a few days and the house wine tastes suspiciously 'thin'. As I'm nearing the end of the meal I notice one of the couples that came into the apts on same bus as me and they invite me over so we chat for a while then all go back to apts. I have my obligatory last ouzo & lemonade at the pool bar but it's pretty quiet so opt for a reasonably early night, well compared to Sat night anyway.
Monday
It's bank holiday back home but out here the days just start to merge into each other. After 4-5 hours of walking yesterday I've decided to have an easy day today, little realising what I was in store for in the evening and the bloodshed, but more of that later. I realise that I've never seen Troulos Bay and feel it would only be right to have at least a coffee in honour of Dennis & Vera who are due in a few weeks. So I'm up at a sensible time and potter off down the road to the next stop and the little lane that runs down to the bay. I'm too early again as the small beach bar has shutters firmly closed. However there is activity at the adjoining Troulos Bay Hotel. I feel like a street urchin with nose pressed against the glass looking at the TBH compared to my own accommodation. When my numbers come up on Dennis's beloved lottery I shall stay here. One day. As it happens a well dressed rep from one of the Brit companies (Thomson's maybe?) is doing some paperwork so I ask her if I can buy a coffee direct from the hotel foyer that comes out onto the front? She says 'Just go see that bloke in the white shirt, he'll sort you out'. So I manage to blag a freebie, that lunatic Welshman from 'skint in skiathos' would be proud. Despite the number of them on the island I'm actually not a dyed in the wool beach lover. Nice to look at but I'm not bothered about being on them all day. I haven't come equipped for a beach session anyway so read my magazine for a while and stroll back to the pool.

Troulos Beach

It's only now I start getting texts from Julie who I met here 2 years previous when she was on her first visit solo and me and my mate took her out for a few meals so she wouldn't have to eat alone and we kept in touch. Apparently her phone's been playing up and I never got the invite to drinks with some people down at Mylo's the night before. Ah well, I know I'm missing the wedding anyway as I fly back the day before but I've brought a card with me. I'm invited for lunch at Swells bar with Jules and her intended Graham. So it's back to the room, quick change into something appropriate for the great and good of Megali Amos and off on the bus. Long lazy lunch with J&G, card delivered and catching up means there's little time to do much else so rest of day spent back at the pool chatting with some of the characters in the apts. It's getting distinctly hotter as the days go by, the temp guage by the football pitch confirms this. Because of my plans for next 2 days I realise I may not get chance to go back to Kouk if I don't go tonight. This however turned out to be a mistake.
Showered and dressed for the evening I bus it down to Kouk, bus is virtually empty because most people are going in the other direction to town. I vowed to try to eat in as many new places as possible this trip but I've allowed myself a return to Big Bad Wolf because I had great food there on both previous visits. I'm on my own, I don't expect a great table and they look busy so I'm ushered to the cheap seats at the back near the lawn and trees. I order and then, hello, what's this – the first mosquito I've seen of any size this week. It doesn't mess about and goes straight for my forehead, ignoring the repellent I've applied. For some reason I used up an old spray tin of 'jungle formula' type stuff rather than my usual Avon Skin So Soft. I'm bitten twice more in the next 5 minutes. This is getting a bit silly. I order Lamb Kleftico and it comes quickly, along with the wine. Now being eaten alive and I'm waving hordes of the blighters off with one hand whilst eating with the other. In the end my main course is left half eaten , wine bolted and I'm paid up and out of there in 25 minutes, with six bites that are already swelling up, two on my head. By the time I reach the Agustera bar I feel like I probably look like Quasimodo but a quick check in the gents mirror shows they haven't swelled as much as they feel and I have the advantage of being fairly unsightly even on a good day, in your face mozzies!
I sit at the bar and realise I've not been singled out for special treatment by the six legged horrors. There are people actually spraying each other around the bar, there are people comparing bite marks and numbers, one old fella has one that's come the size of half a plum on his face. It's like a war zone. Someone tells me there was one guy that actually had blood running free down his arms from the number of bites and that people have been ordering food from restaurants as takeaways, dashing in to collect then dashing back to rooms to try to eat it in peace. The wisdom seems to be that there was rain 3 weeks ago so all the eggs laid then have now got to a stage as new adults and are coming out looking for blood to make the next batch of eggs. Another opinion is that cost cutting has meant the area around Kouk hasn't been sprayed as often as it used to be to keep them down. Whatever the cause I've been bitten more times in 25 minutes than my last four holidays combined. I walk past groups of people in the road comparing bite numbers and head to the bus stop and back to the apts which seem relatively unaffected but as I was to learn later not the case. As it happened I'd already arranged in advance to go to Skopelos for an overnight stay and that adventure starts tomorrow so a decent night's sleep as I need to be up at a sensible time. I still manage my mandatory ouzo before hitting the sheets. I notice the use by date on the spray repellent I used expired two years ago...