Post by kevb on Oct 8, 2015 20:09:45 GMT
Thursday
And before I know it I've reached my last full day of the holiday. Where does the time go? I'm between a rock and a hard place. On one hand I've done some walking yesterday and could do with an easy day. On the other I know that tomorrow will be a real dead day due to room vacating and being picked up for the airport. I opt for a final bit of activity. Browsing dear old Ortwin's book over breakfast there is a shortish circular walk of 3 and a half miles that starts at bus stop 21 (it's number 3 for anyone who has the book). Even though it's going to take me close to areas I've seen before it looks a better bet for tired legs than a lot of the others. It's going up north again but further west than Aselinos so I'll get on a new path at least. Everything's going quite well, it's a quiet pleasant country stroll, albeit a decent climb uphill. There are a few forks in the road at stages along the way and I make a wrong turn, go further than I'd like before accepting my blunder and retrace my steps, but i have nothing else on all day and it's still well before noon. Back on the correct path I come round a bend to be confronted by an Italian couple on a scooter having a full on domestic in the middle of the dirt track. The scooter is struggling with the incline and 2 passengers so being the chivalrous knight he is he's dumped her off to walk while he goes on up ahead to scout out the land. The don't seem to have any map at all. I get closer just as he returns from his foray and the squabbling starts again. I don't know what the etiquette here is, do I squeeze down the side of the cliff face and try not to look, stop and wait for it to settle down, stand and cheer them on like at boxing? They reailise they are not alone and look for guidance. 'Agistros?' they enquire and as I'm not totally familiar with this corner of the island I try to look convincing and dutifully unfurl my trusty map on the seat of the scooter and show them where I'm 90% sure is where we are. As it happens we are just about at a point where the road splits in 3, one of which is a dead end so it's as well we've had a look. Either of the other 2 routes will eventually lead to Agistros and they seem happy with my suggestion of a preferred route and off they go with the scooter engine whining away like an out of control hair dryer. I get some peace back in time to get to the little viewing area with a bench that gives a superb view of the valley all the way down to the lake at Koukounaries.
The view down to Koukounaries lake
There is barely a cloud and little wind, going to be another hot one. Now I push on and I've only got half a loop to do and I'm back on the track that got me here. I look at the map and notice if I break away from the 'official' walk I can actually reach one of mt favourite beaches, Mandraki. Looks a bt of a hike but doable. So saying a mental apology to Ortwin for only follow 2/3 of his assigned walk I strike off west to Mandraki. I am almost tempted to find the Italians as there is a road off to Agistros beach but I keep true to my new plan and slowly work my way downhill, through the pines and eventually to a familiar junction I've approached from a totally different direction on previous holidays. Then down the sandy path to Mandraki and – hang on, what's this?
A brand new portacabin has sprung up – quelle horreur! I'm worried that the little old lady has had interlopers muscle in on her patch. I go to the old original and slightly run down cabin I've used in the past to show some loyalty. There's a young woman in there who fixes me with asteely eye and points back at the new cabin. Now it becomes clear. They have actually expanded, we are now looking at 'Two sheds Mandraki'. The old cabin is now purely for food prep and the other one service. Eventually the old lady I recall from the past appears and gets everyone into gear, though more often than not it seems too many people are in the cabin at once and just get in each others way, leading to a steadily growing queue at the window. I'm in no hurry. She looks a bit fierce but is actually quite nice and speaks good English. I tell her about the last time I was here 2 years previous when there was a sharp shower and we were all hiding under the leaky grass matting roof with water dribbling down our necks. They had to bring in beach brolleys to act as a second roof leaving about 6'' head room, we all hunched over our Mythos. A bloke in the queue pipes up 'He's right, we were here that day as well!' well they do call it boomerang island. Eventually I persuade them to put a bit of tomato on my feta cheese with olive oil and bread. It doesn't officially exist on the menu (feta – yes. Tomatoes – yes. Feta with tomatoes –no). It seems to take a family meeting of United Nations proportions to decide if they can do it and how much to charge. It eventually pans out to the princely sum of 3 and a half euros. I realise that this really is my last chance for a day at the beach. A rummage through the rucksack reveals no beach towel or swimwear (cutting the weight down for walking) so I eat lunch looking whistfully out to sea, I might not be back next year, who knows?
Now I have the choice of the short walk back through the pines to Kouk or a longer one round the coast and headland which still gets me to Kouk but takes 3 times as long. What the heck, I'm on holiday so long version it is. I've done this walk 3 times in 3 visits, twice in this direction and once in reverse. It still offers for me some of the best views on the island , little hidden beaches way, way down below the level of the path. Sufficiently high up that I can look down and see a bird of prey. It's either a kestrel or possibly, if I've been very lucky, one of the rare eleonora's falcons that inhabit the Sporades. It's a bit far away but looks on the big side for a kestrel so who knows... not a buzzard for sure. Eventually back down hill to beach level at Kouk and decide I've walked enough so it's on a deserted bus back to Troulos and the remainder of the afternoon and early evening spent catching up with folks round the pool, not seen some of them since Monday. Time for a few lengths of the pool, listen to some music and decide where to eat for my final meal.
Having chatted to Jules & Graham earlier in the week I've opted for Ricci & Poveri, if I can find it. So suitably spruced up and armed with a street plan, well what can go wrong? You'd be surprised. On the hottest and most humid evening of the entire holiday here I am going up and down, tracking back and forth from the little harbour front up to O Batis (the little map says R&P is practically next door) but I don't see it, ask a young girl fronting a nearby restaurant and she doesn't know it either even though it's 2 streets away according to the map. Back to O Batis and then – surely that's an unlit dead end beyond O Batis? No it isn't, I just haven't been adventurous enough, 3 yards round the next corner of a narrow alley there is the (very easy to miss it in a hurry) entrance to R&P. I now look like the incredible melting man as I stagger in, rivers of perspiration rolling down my face. However the hostess takes it in her stride and invites me in. No chance of a table overlooking the Bourtzi in the near distance across the harbour, I'm stuck with an interior table but it's a tiny place so I'm happy get a seat at all. Some rehydration required so I order both a large glass of house red and a mineral water. I've got in to the habit of not doing 'starters' , just too much, but this is tapas anyway so I can mix and match. Plumping for 3 dishes of a)lamb ribs with herbs b)two stuffed mushrooms and c)spicy Mediterranean style potatoes there's more than enough, I have to leave almost half the potatoes. I think 5 dishes for two people would be about right, 3 for one is just a bit too much. I can tell from the decor what the prices will be like before I opened the menu but it's the last meal and in fact what I have consumed comes to less than €30 including the tip so it's not excessive, possibly the best meal I've had all week. I'm too stuffed for any beer and I dabble with the idea of having a blowout cocktail at Marylin's nearby or the rock n roll bar. The clientele in both make me feel about a hundred years old and I'm beginning to feel the miles I've put in today so the ouzo lures me back to the pool bar for a nightcap and the dreaded thought of packing in the morning.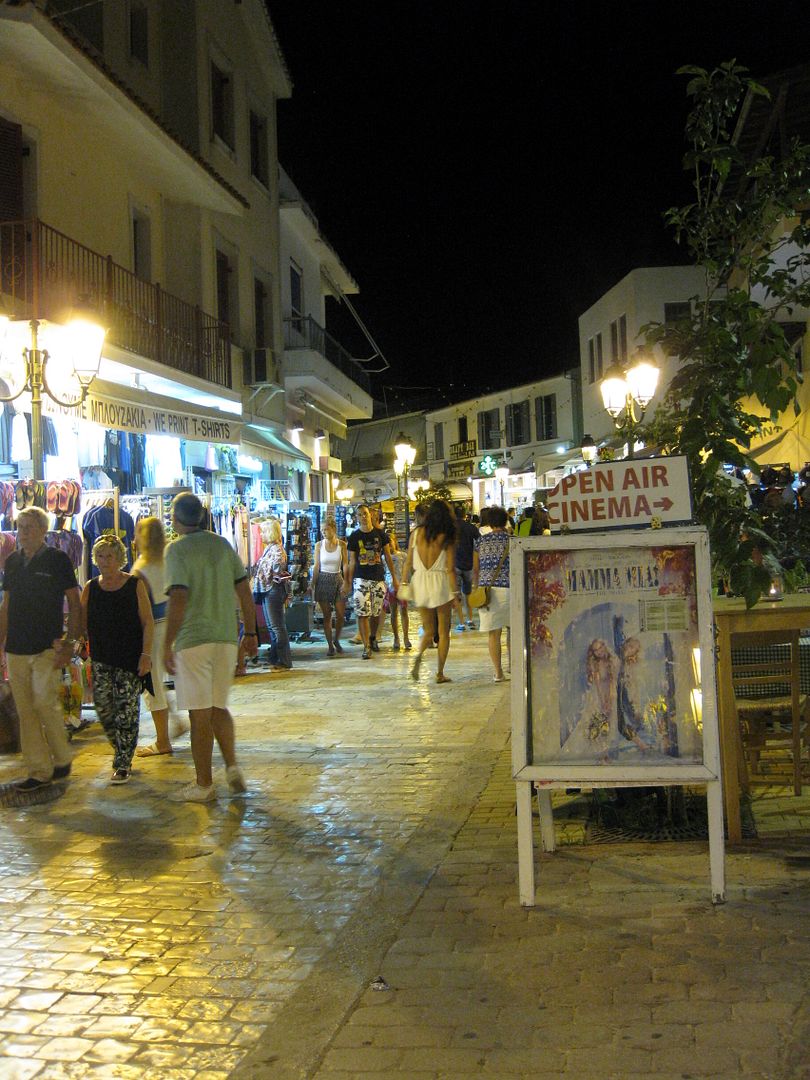 Returning from last meal in town and yes, they are still showing that film...Friday
Where did that week go, it seems only a few days ago I was on the bus to the airport and in a few hours I'll be...well, on a bus to the airport. Just not the same one. Checking the conditions of the package on the noticeboard outside the pool bar it appeared luggage will be picked up at 10:30am which restricts even more what I can do with the day but we are on an afternoon flight so there's little to do with the day than catch a few rays,have a swim and chat to guests and staff. One of the couples that came in on my flight are staying on another week, the other who I have got to know fairly well, will be joining me on my flight home. The staff hierarchy is interesting with clear demarcations. Costas is the boss, owner and apparently owner of another bar in town. He is here all year, runs the pool bar in the summer and rents the other to others then in winter they go, he shuts down the pool bar and has a fairly quiet winter just running the one in town. His main minion sports a beard that would win the admiration of any Islamic fundamentalist. He won't be here next year by the sounds of it, he talks of moving on, maybe Crete next year. Skiathos? – like the island, not so much the people he says. Well at least he's honest. The lowest on the pecking order is actually the oldest of all 3 of them but I notice Costas never lets him use the till, he can make the drinks but he's no allowed to handle money by the looks of it. I notice a few new faces have appeared, some of them came in yesterday but others have probably appeared whilst I was on Skopelos. It's too late to strike up familiarity but I pass on a few pearls of wisdom and hand over my free airport map, suitably careworn after last night's foray into town, to a new arrival that must have missed the handouts on arrival. Costas is profiting from the heatwave, another new arrival from last night comes in and says 'It's no good we'll have to have the aircon for the week mate, it's not me it's the missis' I bet they all say that. Personally I've survived the week without it, saving myself €50 or put another way a trip to Skopelos and back. The man has a point though. After I've seen my luggage hurled onto the back of a lorry and disappear into an ever growing pile in full sun in the airport car park I push the boat out with 'special' omlette from the pool bar which seems to include just about anything that came to the chef's hand in the kitchen whilst preparing. It does the job, I'd all but run out of my original provisions by last night, it was a meagre bowl of cereal for the last breakfast. The bread's looking a little lifeless after a week as well so I treat the chickens to the last 3 slices, or at least I would have had if the goat hadn't beaten them to it. Remarkable turn of speed, fastest I've seen it move all week.
A final swim in the pool (change of clothes in hand luggage, all well planned in advance this time) and I notice the little lad with his folks who's been here all week. In a natty one piece bathing cozzie he barely a toddler but is always on the go. I can see his face hasn't gone unscathed by the mosquitos and mum says 'You should see his back – covered' so it's not only Koukounarians that have suffered. Mid afternoon just before we are due to get picked up I decide to get a quick snap of the scoreboard at the football pitch, it is dithering between 49 and 50 degrees . I can see Costas planning his retirement on extra air con fees if it carries on like this. All too soon we are all saying our goodbyes and of course in a few hours another set of Friday night newbies will be coming in, it's all go on a Friday, you can feel it in the air.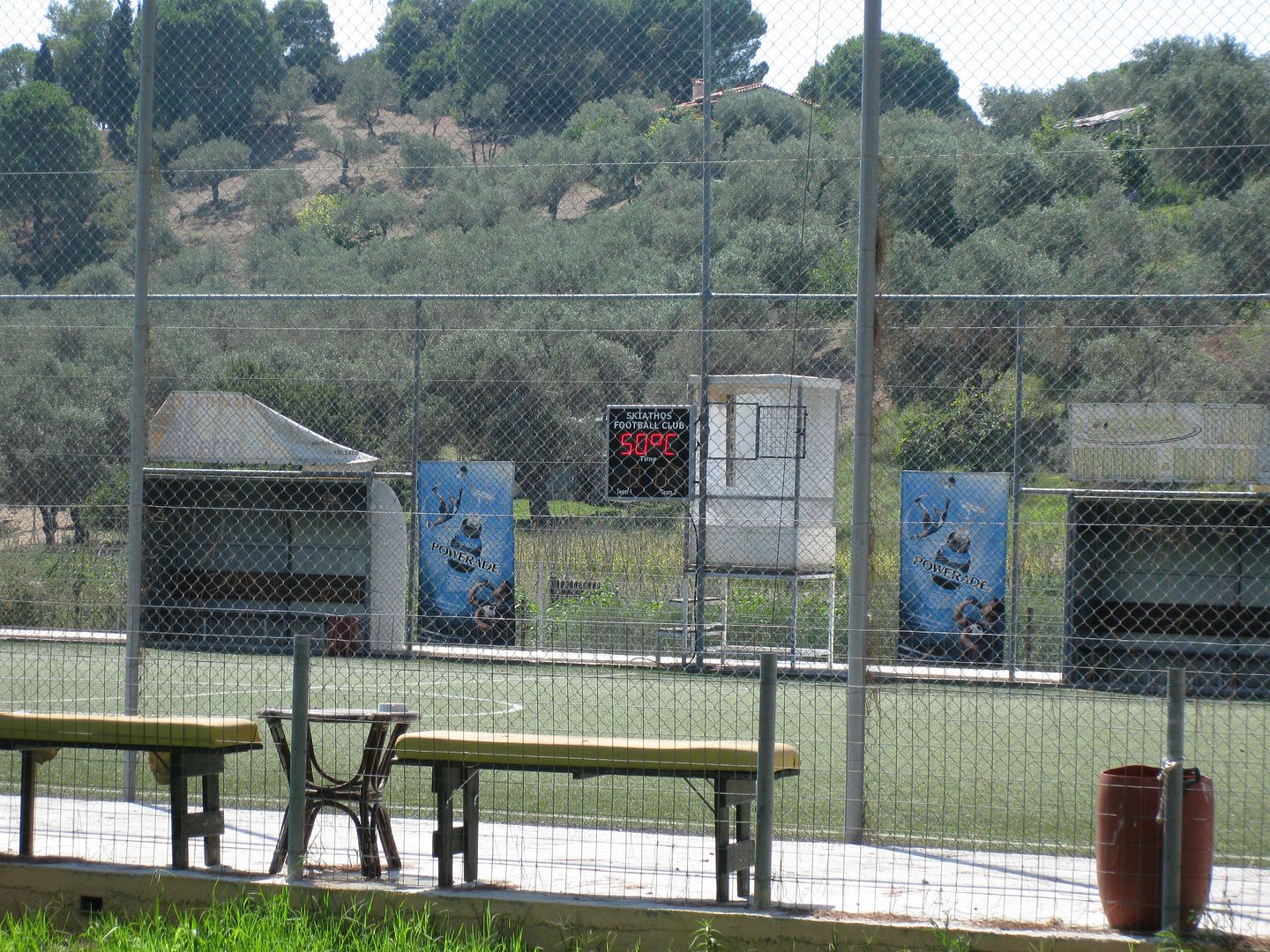 Warming up the playing surface...
Bus arrives on time, it's a fairly civilised scrum to retrieve luggage from a pile guarded by an old lad on a chair, like he's going to ask us to prove which our own cases are, he can barely stay awake. Where two adjoining tavernas stood there are now small mountains of earth from the expansion works, that's progress for you. There's the general chaos of small airports with lots of flights to get away but before not too long I'm in departures and the game of chess-with-planes ensues trying to shuffle incomings and outgoings with an apron the size of your average Lidl carpark. I'm told this will definitely change by next year, they will finally give the new expanded apron a lick of paint over the winter and it'll be good to go. There's a mass of people backed up in departures now as a flight to Italy is delayed.
A woman running a souvenir stall berates passengers who have started using her pride and joy display shelves of stuffed animals as a place to lean on and put their coffee cups on. Well it is all of 18'' away from the actual coffee dispensing counter so I can see the confusion. She shoos them away and painstakingly rearranges the fluffy beasts a centimetre this way or that as if it will instantly result in an avalanche of sales. I catch up with my fellow guests from during the week, they've had a great time and actually survived hiring a quad for 3 days, been all over the place. I've resisted these before but they have got my brain cells mulling it over for a future visit, a lot of Ortwin's walks don't start from a convenient bus stop. Well we just have a bunch of people to get off to (possibly) Gatwick and I think we are next up, our plane has come in and is being sluiced down so hopefully not too long to board. We end up about half an hour or so delayed in finally getting away. Only to inevitably land again after 40 minutes for the necessary refuel. Now for real plane addicts two take offs and two landings is probably a joy and first visit it was a novelty, second time bearable but on third go it's just a bit of a drag. I'm not sure if the runway will ever be long enough for bigger planes to safely fly out with a full payload of people and fuel, might have to get used to it or fly from somewhere else. Homeward flight thankfully 'uneventful' apart from the woman in the adjacent seat falling asleep on my shoulder so I couldn't move for an hour until she suddenly woke with a start, she did apologise though. I try my new fangled passport on home soil for the first time, the machines have never been working on previous returns. It actually works but it seems to take just as much time as being glanced at for half a second by someone looking very bored in a booth and waved through. Nothing to declare so on to baggage retrieval and I'm conscious I'm about to hit a cut off point when the bus from airport to back home is only 1 every hour. As long as I get luggage pretty soon. The carousel starts and baggage is being hurled onto it, looking good. No sign of mine though. In fact only about a dozen or so appear then the carousel stops mysteriously for about 10 minutes. Then its back into life, my suitcase appears quickly and I'm off to the bus stop but I've missed it , ironically by the elusive 10 minutes of carousel stoppage. The taxi desk eyes me up like a buzzard would a dehydrated hiker at a monastery but I've already seen there tariff and settle down for a 50 minute wait with my magazine. It's too late to do anything when I get home anyway and I have a week's worth of memories to replay in my head, maybe I should write them down somewhere, yeah that'd be a good idea....
All the best,
KevB