Post by kevb on Oct 7, 2015 15:18:43 GMT
Tuesday
Because I'd come solo I had decided in advance that I'd have a night on Skopelos to break up the week. Unfortunately the accommodation were running their Greek night/BBQ on Tuesday and I would miss it but can't be helped, might have been a fun evening. I had a room booked for €22 and the return ferry fare was €23 which seemed reasonable enough. Though I had it all booked online I still had to pick up ferry ticket from their office and it was recommended to arrive an hour in advance. Hence a reasonably early breakfast, pack a change of clothes and a few essentials (including a repellent that might actually work) into a small rucksack and I'm off. Sat in the café opposite the ferry terminal with ticket in hand by 9:30 watching the world go by over a coffee. I move seats to free up a big table to let a group of Scandinavians sit with all their luggage. I'm not sure if they are waiting for a taxi or they will be joining me on the ferry, it subsequently turns out to be the latter. They are equipped for a much longer stay than I am on the neighbouring isle. There is some commotion as a group of Italians bound for the airport realise they cannot all fit, with their excessive amount of designer luggage, into a single taxi and the driver tries to explain that he will just drop one lot off and come straight back for the remainder of the group. Italian lady seems to take this as some sort of personal insult and berates him as only the more latin influenced nationalities can. In the time it took to harangue the poor guy she could have walked halfway to the airport anyway. I think I might have made her do exactly that. The ferry turns up, running late. There is the usual organised chaos as those coming to Skiathos are disgourged from the giant metal floating box. As I walk up the gangway into the bowels of the ferry there are the last few vehicals queued to come ashore. One is a Peugeot estate which is doubling as a hearse, and there is a coffin in the back. Someone has made their last ever return to Skiathos…I head for the top open deck and get a bit of morning sun.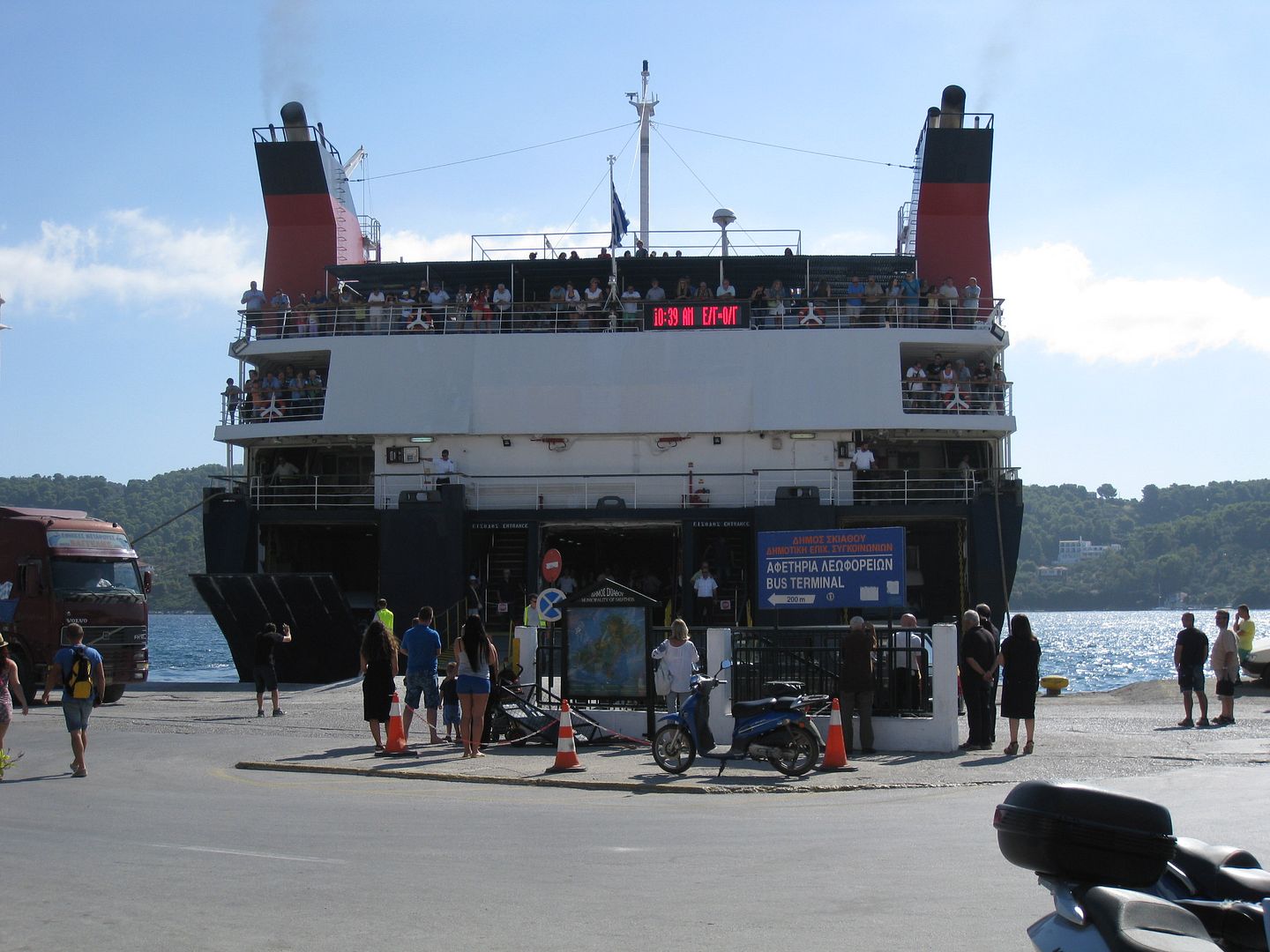 My ride for the day

The ferry briefly stops at Glossa on Skopelos and a few people get off then we are away round the north end of the island and sailing south down the east coast and into the large harbour (technically there is more than one and they are separated by jetties but all built into the same large natural bay). Arrival slightly late but off the ferry by 12:30pm. There are hills away from the town in every direction, I make a mental note that if I'm going walking tomorrow it's not going to be easy going.
I'd checked on google maps in advance so had a rough idea where my accommodation is but as it turns out I don't need it. Like some movie I make my way through the throng of disembarkers to be confronted by my own name. It's in marker pen on a piece of paper and being held by the guy who owns the rooms. I hadn't told them which ferry I was on so he's either made a guess or he'd have been prepared to drive down to meet every ferry until I turned up, that's hospitality for you. Introduces himself as Nickos and I'm personally chauffered back to the apt in his car. We have to make a small detour as the direct path to his place has a JCB on it digging a huge hole in the road. It's a country road out in the sticks and there doesn't seem to be any pipe or other services at the bottom of the hole, it's just a hole. But the digger operator is taking his job very seriously as half a dozen of his mates look on from the shade of a nearby tree. It turns out the rooms are just in one smallish block, 2 storeys and about 10 rooms in all, Nickos and his family live in the rearmost section and he says just pop round if I need anything. The room is a family one with a double bed and a single, air con provided at no extra charge. TV, decent bathroom and a large fridge. I'll be quite happy for a night here.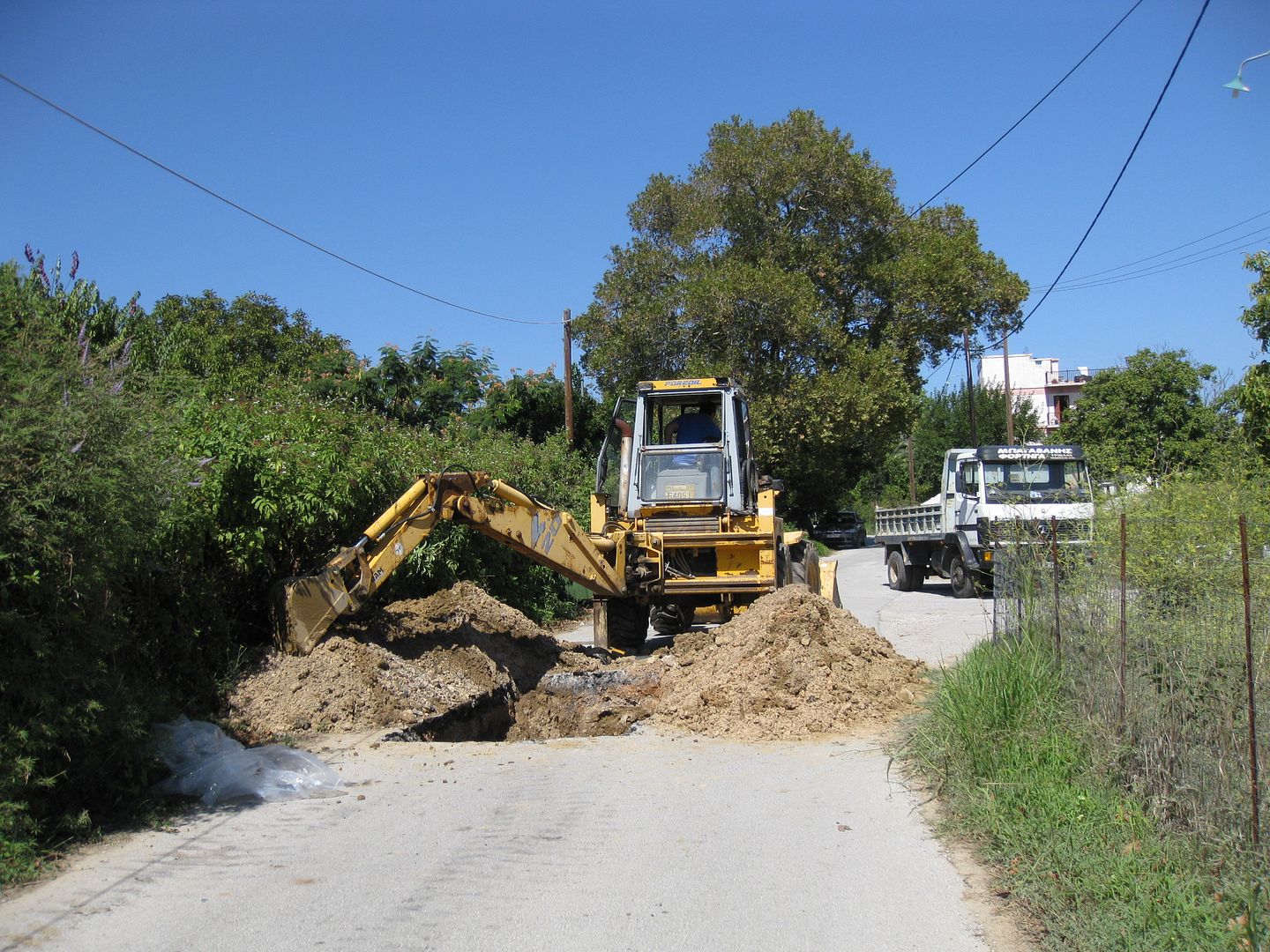 Vital road repairs in Skopelos
The rest of the day is spent getting my bearings around the town itself. You don't have to go too far back beyond the harbour front shops and restaurants to encounter a maze of apparently identical narrow streets, mostly unnamed at first glance. They are steep heading back away from the harbour. Wouldn't want to be a postman here. Zig zagging back and forth, climbing every higher I end up at the east end corner of town where, high above the sea, is a ruin. On investigation if you walk round it then down you come to a small rustic restaurant (not open yet) and then round the corner I spot another promontory further down, jutting out over the natural cliff with a great view out the blue beyond. Decide to go down, only a small number of tables and most are free so I'm ready for a beer, realise I still haven't eaten since breakfast and it's now gone 2pm. There isn't a big menu, they are here as café really. There's an oldish woman who's doing all the work and a silver haired fella who might or might not be involved. He seems to go from table to table chatting with folks. Overhearing his conversation he may have been an actor in his past, his English is very good. I can't pin down his accent, it seems to be possibly Germanic but then we get odd inflections which might come from Greek or Italian. He's telling a couple of Brits on another table they were shooting a Greek film here recently and used a disused outbuilding in the cafe to look like a tiny jail where some woman was tied up. I order a beer and greek yoghurt with honey & fresh fruit, expecting a modest pot. It turns up in a large glass fruit bowl and will be more than enough for lunch on it's own, my original thoughts of a sandwich back in town are dismissed. The view is spectacular but I'm reminded I'm a tourist when the bill arrives, there goes another tenner…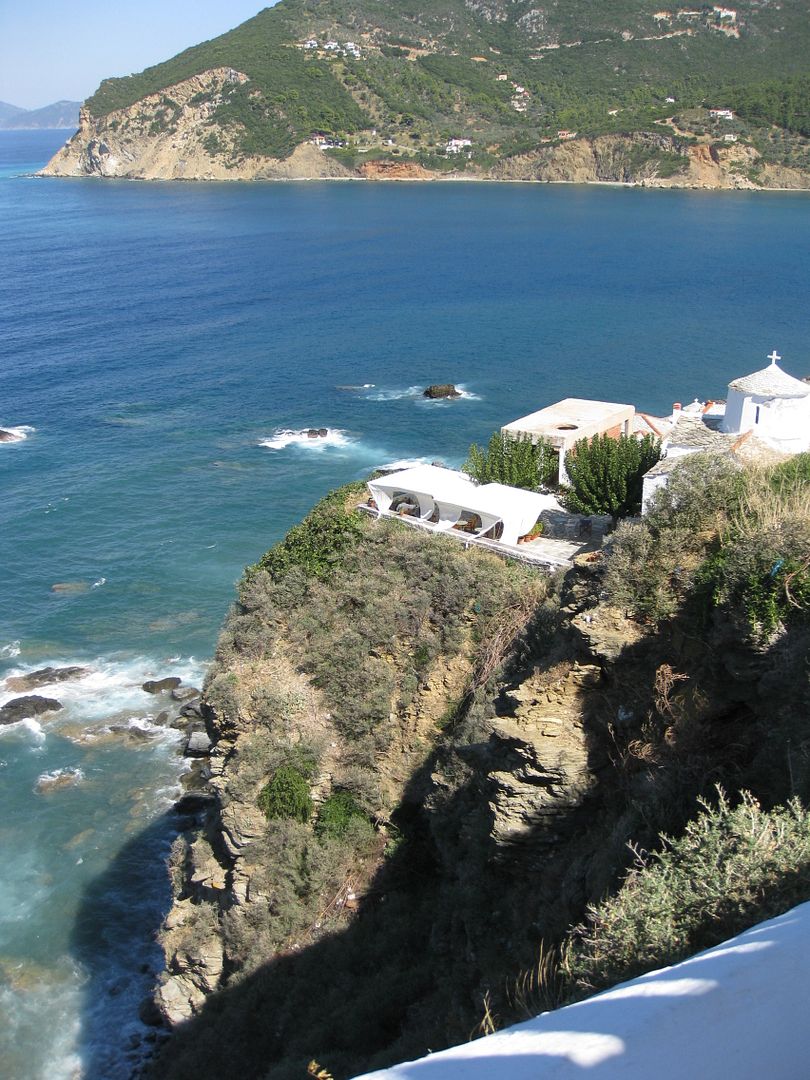 The cafe on the cliff
I walk round the main road at the back of town in a big circle round to the west side which is closer to where I'm staying. Dropping back down to sea level I come back to a familiar crossroad and know my way back. En route I call into a decent size supermarket and pick up water for tomorrow, the odd snack and some fruit. I decide to pick up a large melon and a small bottle of the local firewater to give my host if I see him. Sure enough shortly after I return to the room he's back pottering around. He has a scooter as well as the car and this is his referred transport for the apparently never ending series of trips he has to make to places, he's in and out all day. I hand over the goodies and he's taken aback, asking why I'm giving him them so I just say it was for meeting me at the ferry and I think I've made a friend.
Have a bit of a snooze then shower and out for some food. Decide to stick with the touristy harbour front 'paralia'and do a patrol once up and back, perusing menus and getting the 'feel' of each restaurant. There are no people on the front of these places trying to entice you in which I like, they just let you look around and make up your mind, no pressure. I hadn't checked any reviews in advance so just went pot luck and opted for Nostos. One thing that drew me in was the (apparently local speciality) of goat stew and that's what I had, along with a small jug of local wine. I notice subsequently this place gets mixed reviews but I was happy enough, it was just as well the meat was provided with a tasty sauce as it turns out goat itself is actually a bit bland so there you go. I'd seen on google maps that there was supposed to be a live music bar way down the other end of the harbour but back vaguely where I was headed back but when I found the corner of the lane it was up I couldn't hear any music at all and it seemed very quiet people-wise and I was beginning to get a bit leg weary, if I was to do some walking tomorrow I needed to get some sleep so I strolled 'home' and was in bed by midnight. So much for the rock n roll lifestyle, at least I get a whole double bed tonight.
Wednesday
I'm up at a decent time and refreshed after not drinking much last night. No apparent after effects of the goat stew either, in fact I'm a bit peckish. So I quickly get my meagre belongings together and try to pay Nickos and say goodbye. But he's out on his rounds and no sign of Mrs Nickos either. So I kick my heels debating whether to leave the money in the room or what. Just as I decide it's my only option he's back and I opted to give him €25, he's insisting on giving me my €3 (at the exchange rate I got this is slightly over £2) change and back and forth we go. He eventually tries to give me my €5 note back so I'd only pay €20 but this is getting silly so I insist he keep it all, these people have to get through the winter and I didn't see anyone else staying while I was there. He's happy, maybe he'll remember me when he has a snifter of the local spirit later. I can get back to town directly now, the hole has mysteriously been filled in as swiftly as it was made. I have a vision that the bloke from Bernard Cribbins' novelty song is down there somewhere. Next job breakfast, go for a café that's almost opposite the ferry terminal and seems popular with the locals, good sign. I try to order scrambled eggs on toast. 'What you want in it?' the young waiter says. 'In it'? 'In the eggs, we do mushrooms, peppers, cheese, anything you want'. Eventually I get the message across that just eggs is fine. The toast inevitably gets lost in translation and I end up with a plate of eggs and a basket of warm bread. Washed down with a local style coffee (and accompanying glass of water) it'll set me up for the day. A group of old local boys on the next table are already on the tsoupiro and it's barely 10am, interesting way to start your day. Hope none of them are in charge of a JCB later. I pick up a cheap and not very detailed map of the island from a harbour kiosk and head out to the west corner out of town where a number of monasteries are noted.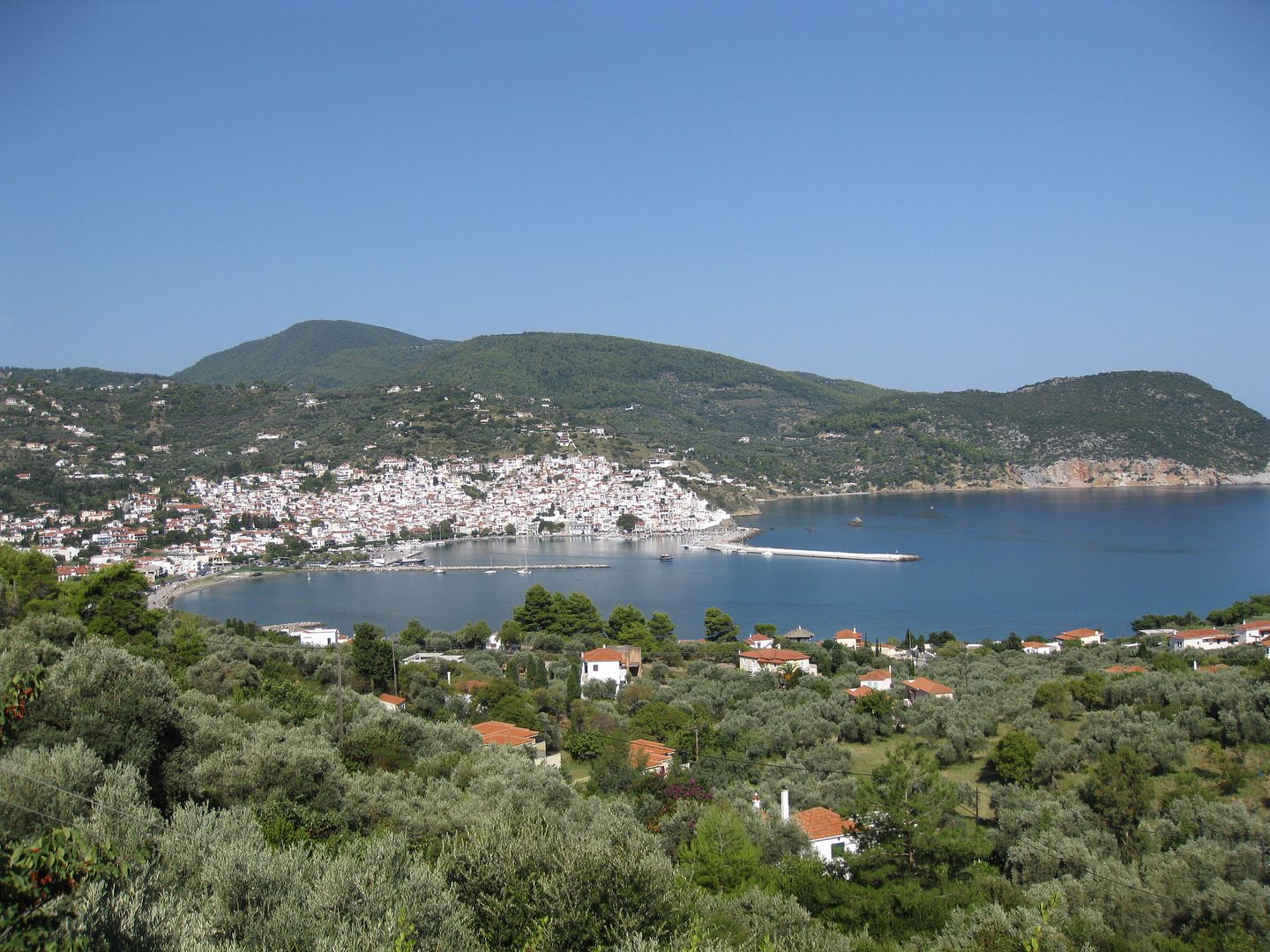 Looking back to Skopelos town from another hiking morning
I have to remind myself that this island is about 3 times the size of Skiathos and there isn't a scale on the map I've picked up. Never the less, armed with 500ml of water and a ripe peach in my rucksack I head to the hills. It's a pretty country lane, bordered on each side with smallholdings and grazing grounds. It also gets very steep very quickly and my legs know it. I come round one corner and disturb a large buzzard which lazily leaves its perch in a tree and heads to the cliffs to pick up some thermals. I'm not far gone enough to be his breakfast just yet. The path goes upwards, turns left and…becomes a complete dead end with the gate to someone's property. I've got the wrong road. Retrace my steps back down to the main road and walk further along it, now suddenly there are signs pointing me toward monasteries up another road, this time tarmac. It's getting hotter. I make a note of the time, head off and the road climbs up further and further, in places it has to zig zag back and forth with sharp bends to take some of the steepness out, they could have filmed the last bit of The Italian Job here. So onward and upward, it's getting quite hard going and I'm getting through the water. People pass me in cars, on quads, on scooters. No one else is on foot. The ghost of Noel Coward is at the back of my mind singing about mad dogs…Eventually I reach the first monastery and a look at my watch tells me it will also have to be the last for me today unless I make a whole day of it. The road leading to the others just looks even steeper, if I return I'll hire a car. So a quick look round the small monastery and I flake out on a low wall in the grounds and finish the water, I'm gasping. There's an old monk sat nearby mending his garments, needle and thread in hand. He asks if I need assistance but I tell him I'm OK (unless he has a secret stash of water under his cassock). After a short rest I'm off back down the way I came. I had a plan that if I got back to town in time I could catch a bus back to one of the other tourist places and still make it back for the ferry. Now time is ticking away and I'm kept hydrated purely by the peach I eat as I'm almost power walking back downhill to the harbour, by this time it's early afternoon and I'm spitting feathers. A quick look at the bus timetable and my only real option to get back in time for the ferry is Panormos, bus due in a few minutes. Head back to kiosk, small bottle of water that barely touches the sides and the bus is here.
Panormos is about 30min away by bus along a steeply winding road with plenty of blind bends that the bus has to use the entire width of road to get round so he gives a mighty blast on his horn as he approaches and hopes anyone coming the other way recognises the system. Chat to a couple here for the week but they get off at Limnonari which looks very quaint. Arrive in Panormos unscathed. As it happens there really isn't a lot to the place, a collection of tavernas and the odd shop on one side of the road and the splendid looking beach on the other.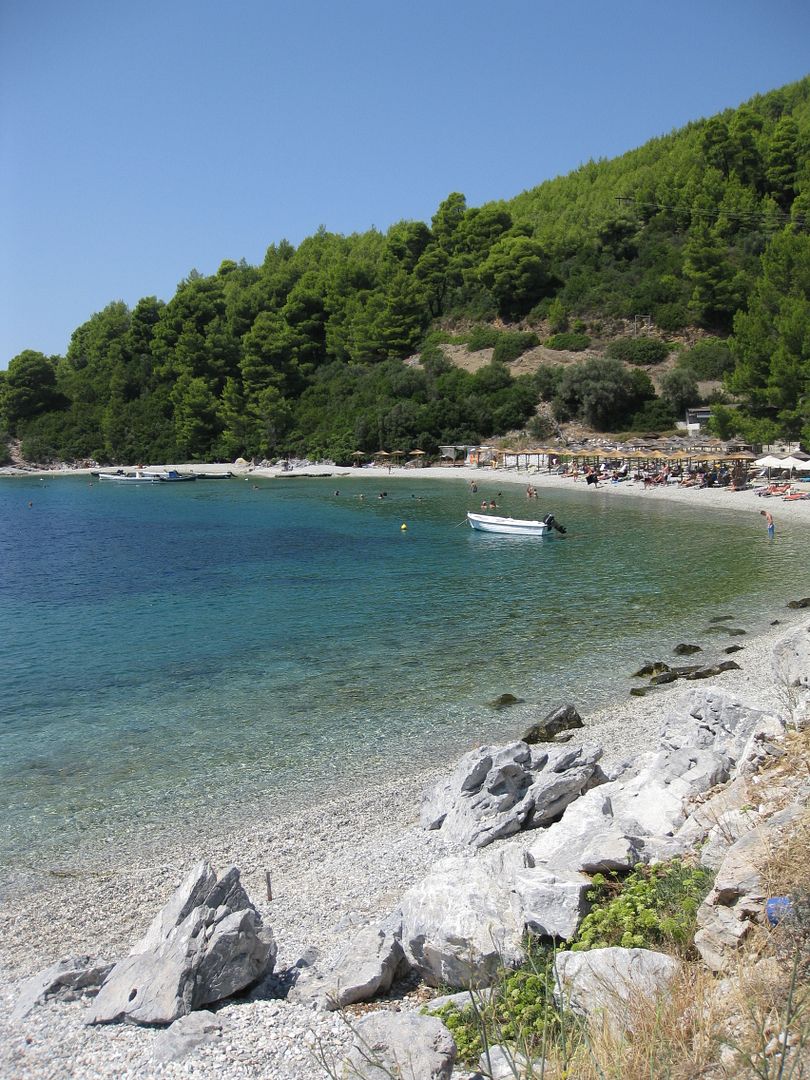 Panormos
Ready for a rest and lunch so go for one of the tavernas which has tables with little raffia sun shades over them directly looking out on to the beach. Plenty of folks out on sunbeds yet is doesn't seem over crowded, just right. Decide on a healthy salad with plenty of feta, just the job in this heat. The young waiter spends his whole day tracking back and forth across the road to serve the people out where I'm sitting. The couple having lunch on next table (from northeast by sounds of it) have clearly been here before, they know the waiter and chat to him as they get served. They enquire about the old lady who was always around here when they have been before and the waiter solemnly tells them she passed away last year. He tells them how sad it was for everyone and all the family came over for the funeral. As he's leaving to serve someone else he chips in with 'Mind you, she was 96 after all…' I wonder at the changes someone of that age would have seen on this island over that time if she was born here, probably saw the first car ever on the place.
A couple of hours flies by and I take the bus back to Skopelos, arriving with just under an hour to kill before the ferry arrives. Time for a last look at some of the backstreet shops, though nothing catches my eye and I settle for a beer in a little square where a few streets come together and there are a number of eating places. There are a group of Scandinavians finishing the largest salad bowls I've ever seen, large square white things approximating to a KFC family bucket in volume and they have shifted four of them. Plenty of empty Mythos glasses too, they've made an afternoon of it and why not?. Ferry time and off we chug back to Skiathos without incident, though we don't stop at Glossa (I did wonder about getting the bus from Panormos to Glossa and picking up the ferry there, just as well I didn't). Arrive back at Skiathos about 6:30pm. I finally pick up Ortwin Widmann's book of Skiathos walks from a shop on Pap street, will give me ideas for future visits.
I've had enough walking for the day so I decide on Vareli restaurant at the y junction of Troulos over the road from where I'm staying. Run by a British lady, she seems very pleasant and the food is fine from what I recall but actually can't specifically remember what I had, it was spicy though! It had been a long day. What did stick in my mind was a weird thing that happened over the bill. It came to almost €19 and I only had €10 and €20 notes on me so I put €30 on the plate and off it went. And I waited. And waited. The young lad eventually came back and asked if everything was OK. I said I was waiting for change which came as a shock to him. There was a young girl running the till and he told me that she 'didn't know what I wanted to do'. Did they really think most folk would give an €11 tip for a €19 bill? Eventually the penny dropped and they brought out change in a way that I could leave a very reasonable tip but still walk away with something in my pocket. It's things like that which can colour opinion of a place and probably unreasonably, maybe the girl was having an off night. Anyway, back to apt for the inevitable ouzo nightcap and I ask if the greek night I missed went OK, Costas seems a little unconvincing with his reply so I wonder if it actually happened at all in the end, I never found anyone else who said they had been either.